Rated G - General Audiences

This article is rated G, meaning it is appropriate for all ages.

Valentine's Day 2020.
Characters:
Singers:
Voice Cast:
Jim Carrey as Popeye/Discord/Four/Washington The Fox
Songs:
Done with Rescues - The Wonder Pets
The Foggy Fog - Captain Gilturtle and Characters
Irene, Turn the Boat - Irene and Characters
I've Got a Good Feeling - The Wonder Pets, Wubbzy, Daizy, Milli, Snagglepuss, Ren and Stimpy, The Soace Goofs Aliens, and The Breadwinners
Go Way, Fog - The Wonder Pets
The Ruiner of the Vacation is Me - Irene
Done with Rescues (Reprise 1) - Buhdeuce
Done with Rescues (Reprise 2) - Everyone
Ocean Man (End Credits) - Male Characters
Trivia:
Character Gallery: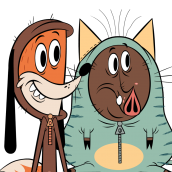 Artists:
Community content is available under
CC-BY-SA
unless otherwise noted.