Rated PG - Parental Guidance Suggested

This article is rated PG, meaning it contains content that may be inappropriate for users the age of 8 and under.

Meet Washington & Sam is a 2019 Animated American Crossover Fantasy Musical Romance Comedy Film.
Coming To Disney DVD, September 30th, 2019.
Plot/Summary:
The Film Begins, TBA.
Voice Cast:
Patrick Warburton as Donkey Kong
Tom Kenny as Flain/ScoutMaster Lumpus/Slinkman/Zig
John Cena as Oggy
Jason Sudeikis as Jack
Jackie Chan as Bob
Jack Black as Joey
Seth Green as Marky
Jim Cummings as Dee Dee
Jim Carrey as Washington The Fox/Popeye/Discord/Four
Danny McBride as Sam The Wild Boar
Frank Welker as Scooby-Doo
Tara Strong as X
JonTron as Pat
Common as Stan
Martin Lawrence as Boog
Ashton Kutcher as Elliott
John Stevenson as Mr. Wheenie
Dwayne Johnson as Sharko/Baymax
Jonathan Ross as Mordechai
Bobcat Goldthwait as Rigby
Kevin James as Nick Wilde
Joe Russo as Gumball
Tom Hanks as Scar
Kevin Michael Richardson as Shenzi
Patrick Harris as Azizi
Josh Gad as Ed
Robert Downey Jr. as Hyenas
The Characters In The Movie: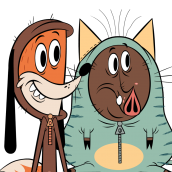 Songs:
Quotes:
Donkey Kong: Look! It's Washington and Sam In The Garden!
Oggy: Hello, Washington! Hello, Sam!
Washington & Sam: Hello!
Jack: A Fox Dressed Up as A Dog! and A Wild Boar Dressed Up as A Cat!
Flain: Lucky Customs!
Scar: Oh My God! I didn't notice you are getting so Far!
Shenzi, Azizi, and Ed: No King, No Kingdom!
Scar: Kills Washington and Sam Knife!
(Starts Kills Washington and Sam Song)
Trivia:
Community content is available under
CC-BY-SA
unless otherwise noted.