Bad Clam (Sung By Everyone).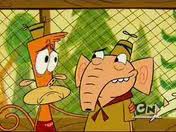 Lazlo💕💕💕Raj
Lyrics:
Raj: Now listen up fellah and I'll tell you a tale.
'Bout an outlaw rhino who belongs in the jail.
Name's clam.
Bad clam!
He lives in the hills so he wont get caught.
Cookin' up his beans in an old black pot.
Lazlo and Raj: Clam!
Oh bad Clam
Raj: I'm no judge but I'll think you'll agree.
If you think he's bad now just wait till puberty!
Names Clam
Male Characters: Bad Clam
Bad Clam
Clam the Outlaw....💝💝💝💗💗💗
Community content is available under
CC-BY-SA
unless otherwise noted.